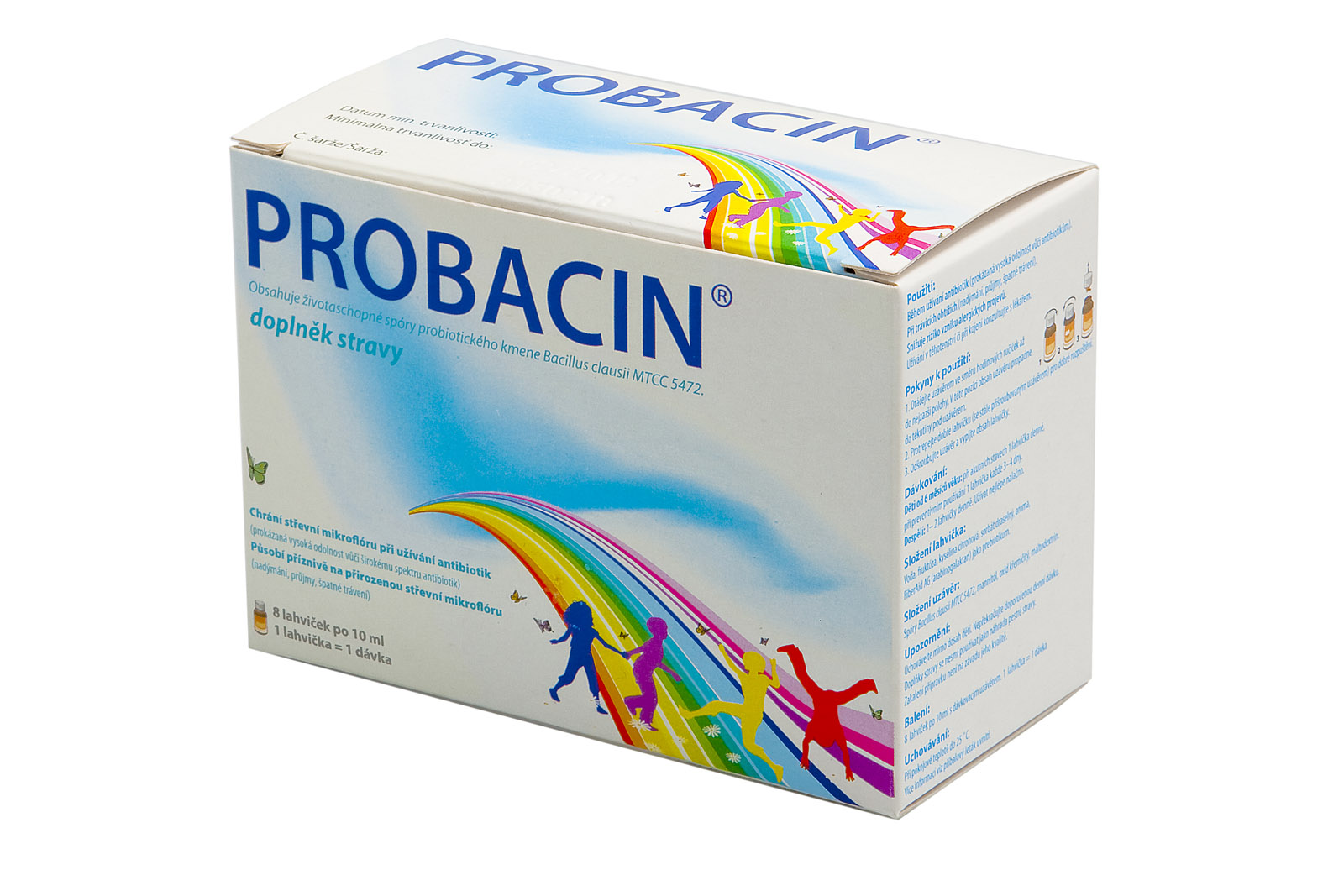 A food supplement containing viable spores of the probiotic strain Bacillus clausii and prebiotics arabinogalactan, a new probiotic strain, a new dosage form.
Effective probiotics when using antibiotics, with proven high resistance to antibiotics.
Detailed product description
Ingredients: Bacillus clausii, arabinogalactan.
Dosage form: Lyophilized spores of probiotic bacteria are placed in the cap of the vial; arabinogalactan solution (probiotic) forms the contents of the vial itself.
Packaging: 8 single-use vials of 10 ml (minimum spore contents of the probiotic strain Bacillus clausii in 1 vial: 5 billion).
Use: In conditions where it is appropriate to strengthen the body's natural defence, including allergic reaction manifested by recurrent upper respiratory tract infections, allergic rhinitis. Restoration of intestinal microflora disturbed with bloating, diarrhoea, during antibiotics use.
Dosage and route of administration: For preventive purpose, contents of 1 vial twice a week. For acute problems, 1 vial a day. The product is intended for children from 6 months of age (approved by the Czech Paediatric Society - Paediatric Gastroenterology and Nutrition Task Force). In children under 6 months of age only on recommendation of a paediatrician.
Characteristics: When antibiotics are used, in addition to the body's harmful bacteria, even the body's beneficial bacteria are often destroyed by antibiotics, which upsets the balance of the intestinal microflora. Disturbed balance is usually manifested by intestinal discomfort. The Bacillus clausii spores contained in Probacin are resistant to a wide range of antibiotics, so it is advisable to use the product together with antibiotics to maintain the natural intestinal microflora. Bacillus clausii is resistant to a number of antibiotics, as documented in clinical studies, such as macrolides, cephalosporins and cefpirome. Probiotics also affect the overall condition of the immune system. In a clinical study, Bacillus clausii had an effect in preventing recurrent respiratory infections in children (including children with allergies). During the administration of Bacillus clausii, there was a significant reduction in the duration of respiratory infection compared to placebo, and a reduction in the number of respiratory infections. The beneficial effect persisted even after discontinuation of the probiotic strain administration over the next three months. Another study showed the effect of the Bacillus clausii strain on the support of Th1 lymphocytes and the suppression of Th2 lymphocytes, which can be evaluated as an antiallergic effect of this probiotic strain.
Product status: Food supplement.
BUY